The city center of Brussels, the Bourse
In an optimistic mood today, I decided to share the top 10 things that I have really loved about living in Brussels, Belgium. This list will probably sound very familiar and relatable to all who live here but for those that do not – this is a taste of the good things of Brussels life.
I think it's important to note that these are Brussels-related things and are not necessarily true for all areas of Belgium. Despite it's small size, this country is ridiculously different in all of its corners and I definitely don't know how life is in other parts of the country. So, without further ado, here are my thoughts on the best aspects of what life in Brussels entails.

A Belgian, an Italian, a Bulgarian and an American at Bruxelles Les Bains (the Brussels Beach)
1.) The international scope of the city
This is without a doubt my favorite thing about Brussels. Get together with a group of friends on a Friday night and see how many nationalities there are – I love that I have friends from all over Europe but also from countries all over the world. It's really an amazing thing, seeing so many different nationalities coming together and becoming great friends or working together extremely well. Brussels naturally attracts really bright, intelligent and interesting people who come from all sorts of backgrounds and it's really the city's greatest asset in my opinion.
Of course, I have some really amazing Belgian friends as well that have made my time here so wonderful, but getting to meet, work, study and live with people of so many nationalities makes you learn 10x faster about other cultures even while living in just one country. It's estimated that over 20% of the population of Brussels is foreign which makes expats a huge group in their own right. Not only does this make for a more welcoming environment for foreigners but it also makes it easier to go through and learn all the processes of a new country when you can rely on other friends who have been through it before. Sometimes Belgians themselves can't give good advice in this regard because they do not have to go through the same processes as foreigners, naturally.

Greeks, Norwegians, Indians and Americans at Amadeo after an amazing dinner
The Downside
There is one downside to this. First, there is a massive influx and outflux of people each year. Brussels is a very transitional place and I'm sure I'll eventually be part of that outflow as well. This means that friends come and go far too much; some friends might stay for six months or one year and then all of a sudden leave while others stay here longer. Many people move to Brussels thinking it will only be for 6 months and it ends up being five years, while for others it's the opposite. At the same time, there are always new people to meet and then you have a reason to go visit an amazing friend in a new country: a positive even in the downside.

Not a picture of the trains…but we took a train 2.5 hours and we were in Aachen, Germany for the Christmas Market! 
2.) Great public transportion and an excellent train system
Yes, I'm familiar with the Stib_fail account on Twitter and I know all of you who complain about the public transport! It's most likely because I'm coming from an area in North America where public transportation systems are virtually non-existent and you don't dare ride the public city busses (I did once, at age 14 and it is quite a story). I love public transportation and I love not driving! It seriously makes life so much less stressful.
Studies show that the longer your commute each day, the less happy you are – which makes complete sense to me as you are losing time, sitting in traffic anticipating your work day without actually being able to do work while being in stressful traffic situations. Naturally, nobody enjoys a packed bus or metro at rush hour with really terrible smelling people around them but in my opinion, the few drawbacks of public transportation is a tradeoff I'm willing to make for saving thousands on gas, car insurance, car repairs and stress in traffic.

A thirty minute train ride brings you to Gent! View from the top of the Gravensteen Castle
I also love that the trains are quite reliable in Belgium and that you can get most places in the country quite fast without needing a car. Most of the trains are quite comfortable as well. I also appreciate the relatively low cost of public transportation passes in Brussels compared with other major cities like Paris or London where a yearly card might cost more than several months rent.

The Grand Place during the summer, an 8 minute walk away from my flat
3.) The low cost of rent comparatively
Belgium is an expensive country in many ways but I think Brussels has a relatively low cost of rent. I pay less per month than what I paid in a small town in NY for a room in a house, and I remember that I was paying less than what many of my friends were paying there.
In my hometown of Rochester (in my opinion, not a desirable city by any means), all of my friends are paying more for rent than I am. Compared to major cities like Washington DC (where a basement room might cost you over $1000 a month) or NYC and other European capitals, I think we have it pretty good here. I've heard a lot of people complain about the rising rent prices, but it's only in some areas and is partly due to rising energy prices in Europe. Anyways, saving money on rent = more money for traveling and enjoying life!

The Belgian Beer Festival 2011 showcasing a quote of wisdom! 
4.) A relaxed attitude towards drinking and festivities
Belgians love to enjoy life, and this shows in their attitude towards drinking and hosting of parties. Because teenagers can drink beer and go out to cafes at age 16, there is definitely a more relaxed attitude towards drinking than in other countries with a higher drinking age. My favorite part of this is that it's perfectly fine to take a bottle of wine with you to the park for a picnic or to share with your friends on a public square without risk of a fine and an interrupted good time with friends.

A race during the Fête de l'Iris, "relaxed" is one way you could describe creating homemade go-carts and racing them down the streets in a city-sponsored event
It also plays out in public festivities like the Belgian Beer Festival, which hosts brewers from all over Belgium on the square of the Grand Place every September. Or in outdoor public events like Aperos Urbains during the summer, where you can enjoy drinks outside in different places throughout the city on Friday evenings. Naturally I do not extend this to the notion that some people seem to have that beer for breakfast on the metro is a nutritional option, but hey – whatever gets you through the day.

La Basilique du Sacre Coeur: Paris is truly not too far away from Brussels
5.) Proximity to a million amazing places to visit
This is cliche but in many ways Brussels is very much 'the heart of Europe'. You can get to Paris in 1h20m, London in 2h20m or Amsterdam in 3h. Obviously, I'm not hopping to these three cities every weekend because it costs! But, the point is that it's there and it's easy to get there. Also, there are really tons of nice places in Belgium to visit (Ghent, Antwerp!) and it's easy to get to Luxembourg, Germany and other parts of Holland besides Amsterdam. Plus it's really a short flight to most places in Europe. Obviously I wish I could travel more than I do (don't we all?), but for living here on a small scholarship, I think I do all right!

A few of my first friends in Belgium: Belgians + a Norwegian drinking Belgian beer
6.) The availability (and low cost) of French wine and Belgian beer
In many countries, the price of wine and in particular wine from France is quite high, even for mediocre bottles. Belgian beer is outragously expensive abroad. In Washington, DC you could buy 4 Chimay Bleus for $25 (20 euros) at the store compared to 4 euros here. In Norway, a Chimay at the bar would cost around 14 euros, compared to 3 euros here. So yet again, we have it pretty good when it comes to indulgence.
Anyways, I love that the Belgians are indulgent people who enjoy their beer and their neighbor's wine (climate change experts are speculating that Belgium might be a good place for wine production in the future). The history of brewing beer in Belgium makes this an interesting country in many respects and the ability to visit many of the abbeys (or the brasseries) makes the tradition really come alive. I loved my visit to the historic Cantillon Brewery in Brussels and also to the grounds of the Westvleteren Monastery.

Sour Gueuze Beer at A La Mort Subite
Also, Belgian beer is becoming so popular in the US (I am not sure about other countries). A bar and restaurant dedicated to Belgian beer and food recently opened in my hometown of Rochester, NY and I visited with my friend last Christmas. The bartender was so excited to hear that I had been living in Belgium and said that it was his dream to visit and during our travels throughout the country I saw probably over 100 advertisements for Stella Artois!

Place Chatelain, lovely neighborhood with many art nouveau buildings in the area
7.) Beautiful architecture and neighborhoods
There is amazing architecture and some beautiful and diverse neighborhoods. I have always loved observing and admiring architecture (even with not knowing all that much about the art history that corresponds), and one type that has always stuck out is art nouveau. I'm sure many of you will agree, art nouveau is so beautiful and lovely and the fact that there are so many gorgeous buildings built in this fashion in the 1900s all around the city makes it a really nice place to take a walk.

The art deco flagship old radio building on Place Flagey
And like most cities, I enjoy the variety of different neighborhoods. From Saint Gilles to Saint Boniface to Saint Catherine, the city feels different in so many places. The facades change, the people change and the atmosphere changes. I'm also enjoying that parts of the city seem to be getting nicer (like Rue de Laeken near me) and more cafes, restaurants and stores are always opening.

My grandparents enjoying the good life in Bruges
8.) Quality of life and healthcare
The healthcare system in Belgium is excellent and I've been really impressed with the quality of care that you receive. For almost complete health coverage for one year (including coverage of hospitalization and surgery), I am paying less than 200 euros! That is for one entire year, covering up to 80% of the costs of medical care and medicines. It goes up slightly as you get older but not much and you can pay less than I am – I just decided to go for the best coverage. I have an amazing doctor as well who is so kind and doesn't mind speaking English with me instead of her native French. When my boyfriend was sick with a serious intestinal infection (we thought it might be his appendix at the time) and could not move, a doctor even came to see him at home. The visit cost 45 euros, without showing any type of health insurance card. Can you imagine that in the United States?

Enjoying the good life with sun and sangria! (A rare combination in Brussels…) 
The quality of life in Belgium is also very good. Besides having a very comprehensive and affordable health care system, you can really live well. From four weeks of vacation a year (and seemingly more for more senior workers) to high quality food, I think Belgians live very well and that living in Belgium can mean a high quality of life.
There are of course very high taxes to pay for this quality of life, but I don't mind paying taxes if it translates into services that benefit me and the rest of society. This is a conversation for a different time as I believe the taxes are too high (if you make more than 10,000 euros per year, you will be taxed at a rate of 45%, which is outrageous as that is living under the poverty line).

Delicious mussels and a fish burger at Mer du Nord
9.) The food and the restaurants
Apart from my own grocery store, which is undoubtedly the worst grocery store I have ever shopped at for a myriad of reasons, the quality of food and stores are very high. In this case, my experience is not the norm as I know that my friends living in other neighborhoods think there is excellent selection and good quality of produce. Particularly at the markets around Brussels, people really buy local produce and most restaurants work with in-season ingredients instead of sourcing expensive ingredients from other countries that raise the prices for all involved.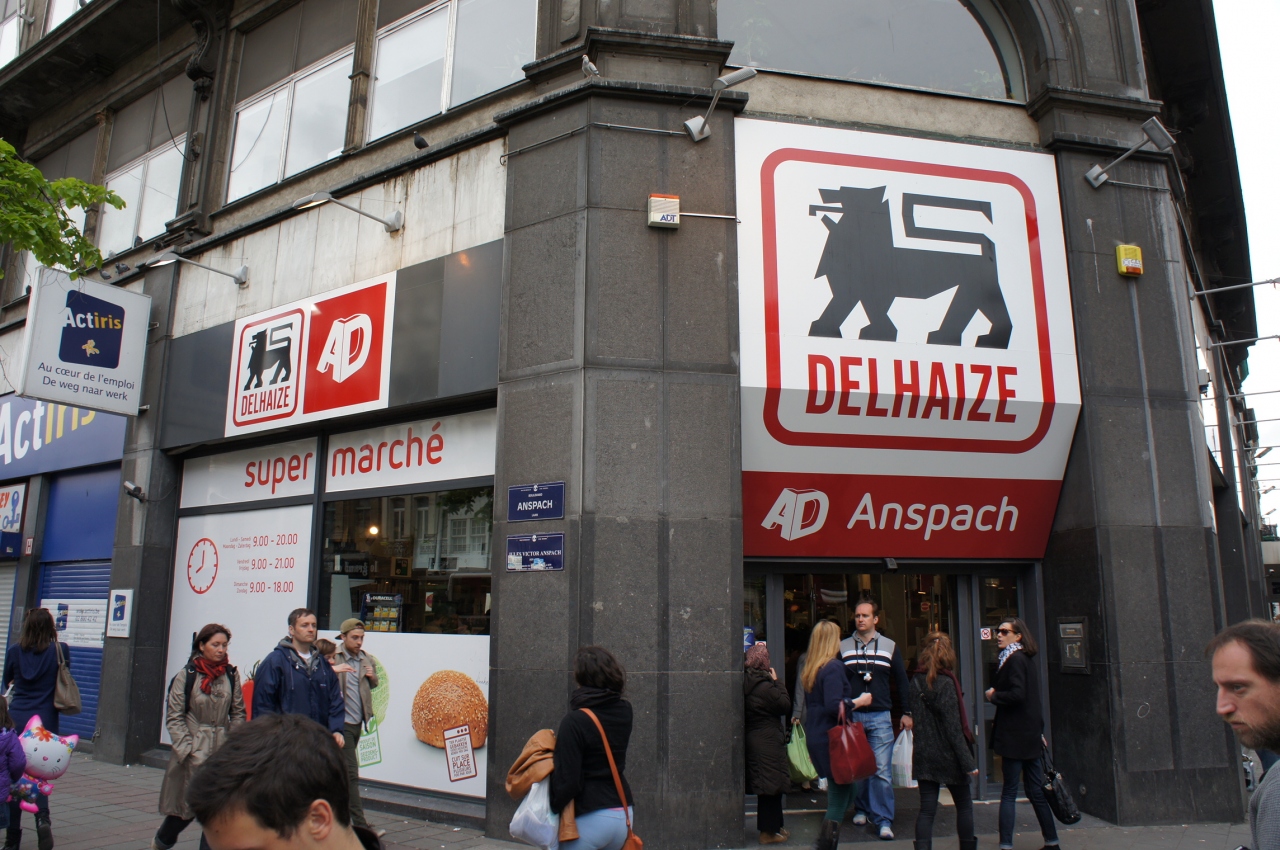 STAY AWAY! Avoid at all costs! 
The city center unfortunately only has one major grocery store that serves like 10,000 people. There are often 200 people in there, with a capacity for half of that. It's claustrophobic, the employees are ridiculous (I've been pushed, shoved and ignored by employees there, my friend was recently stalked and harassed by one of the employees) and many of the customers are even worse. I think Chinese tour agencies tell tourists to go there to buy chocolate because sometimes on Fridays at the busiest hour, there will be like 50 Chinese in the chocolate aisle and this just does not work considering the lines are stretching through the store and everybody is extremely grumpy at having to be in this terrible environment. *End rant about Delhaize Anspach (in case you were wondering in order to avoid it)*

The fish restaurants at Saint Catherine during the winter
Besides that, there is truly an abundance of amazing restaurants in Brussels and although I don't get to go out to eat that much, I've been to some excellent restaurants during my time here and all other Brussels bloggers make my mouth water with all of their amazing photos of food from the 100s of restaurants worth visiting! Someday! Oh and I don't even need to mention the chocolate, that's just obvious.

Anti Tapas night via the Facebook Anti Tapas page
10.) Nightlife
There are only a handful of clubs in Brussels (not many which are actually any good), but the nightlife can be pretty good here. There are always interesting events going on: from the Electronic Arts Festival at Bozar to the monthly Anti Tapas parties in different city venues, there is a lot to choose from. There are also so many cafes that you really have no excuse to keep going to the same places, it just sometimes takes a bit of effort to get out of your neighborhood and go elsewhere. There is definitely something for everyone here, you just have to look for it.